< More Posts
Charleston Travel Guide: What to Do, See, & Eat on Your Trip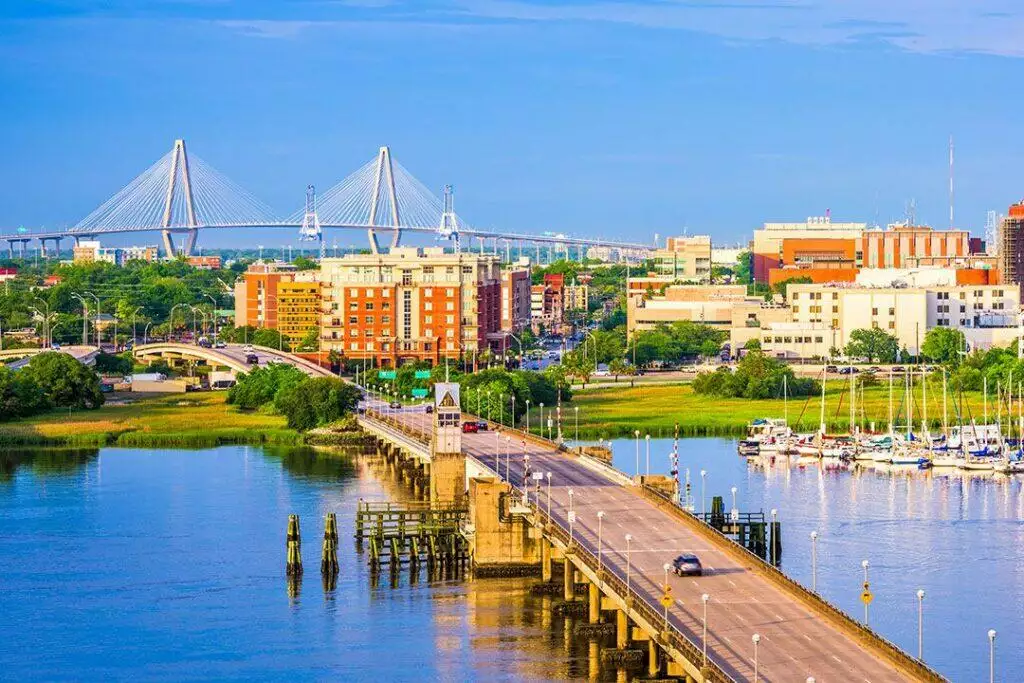 You're planning a vacation to Charleston! Before you know it, you will be admiring the gorgeous architecture throughout the city, joining a captivating historical tour, and sampling Southern cuisine in one of the city's renowned eateries. Get the most out of your trip with this comprehensive guide to help you plan your itinerary, pack appropriately, and select activities and accommodations that match your preferences.
Charleston Travel Guide Table of Contents
Charleston weather and best times to visit
Packing tips for your Charleston vacation
How to get around on your Charleston vacation
Things to do/places to visit in Charleston
Recommended Charleston restaurants
Places to stay in Charleston
Charleston weather and best times to visit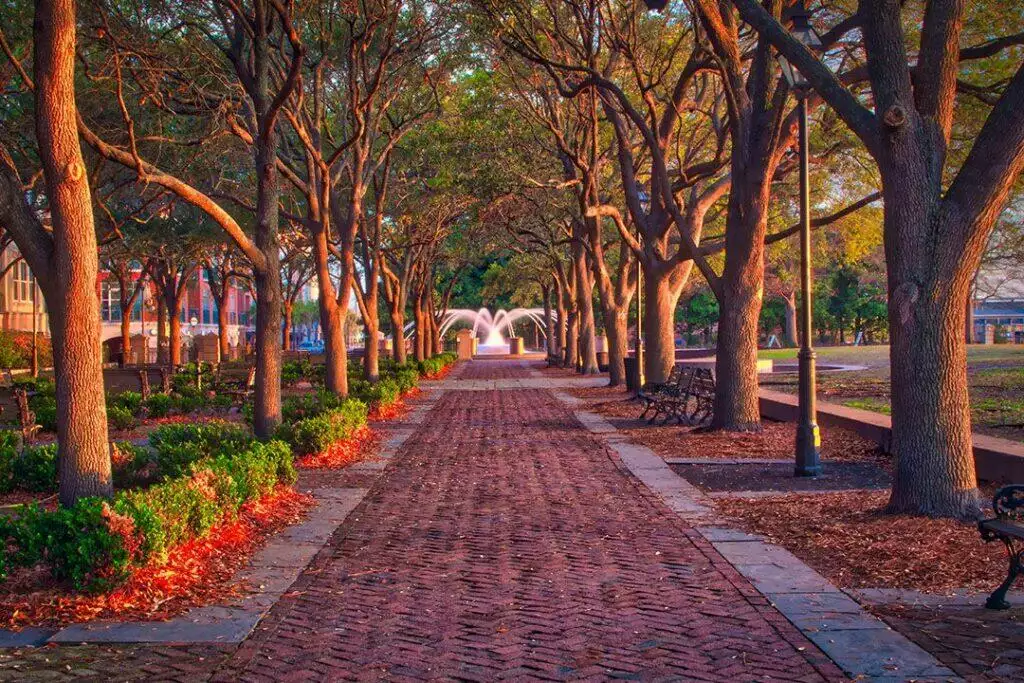 This guide to seasonal weather and tourism crowd trends will help you plan your activities and pack with ease. Here's what you can expect during the year in each of the city's four seasons.
Spring
From early March to early June, average temperatures range from 58° F (14.4° C) to 72° F (22.2° C). Spring is the most temperate time of year, making it a popular time to travel to Charleston. It is also the ideal time to see flowers like jasmine and azaleas in bloom.
Summer
From mid June - mid September you will encounter average temperatures of 78° F (25.6° C) to 82°F (27.8° C). This is the hottest and most humid period of the year and typically the shoulder season, meaning fewer crowds. Summer in Charleston is also a rainy season, with an average rainfall of 4.3 inches (109 mm) in July, while August averages 5.1 inches (130 mm). There are a lot of short afternoon thunderstorms, creating a great time to go inside for a cold drink and relax after a morning of sightseeing. Rain showers can provide a refreshing relief from the hot and humid temperatures during this time of year.
Fall
From late September - early November, the average temperatures cool to between 58° F (14.4° C) to 76° F (24.4° C). Autumn is one of the best times to visit Charleston because of the cooler evenings, significant periods of sunshine, and the beauty of the changing leaves.
Winter
From December - February, average temperatures fall between 47° F (8.3° C) to 52° F (11.1° C). Typically, winters are mild and cool, with fewer crowds (except for Christmas and New Year's). There are periods of rain and rarely any chance of snow (or freezing rain or sleet) during this time of year. Visitors looking to save money can consider visiting in the winter when colder weather results in lower hotel rates and flight fares.
Packing tips for your Charleston, SC vacation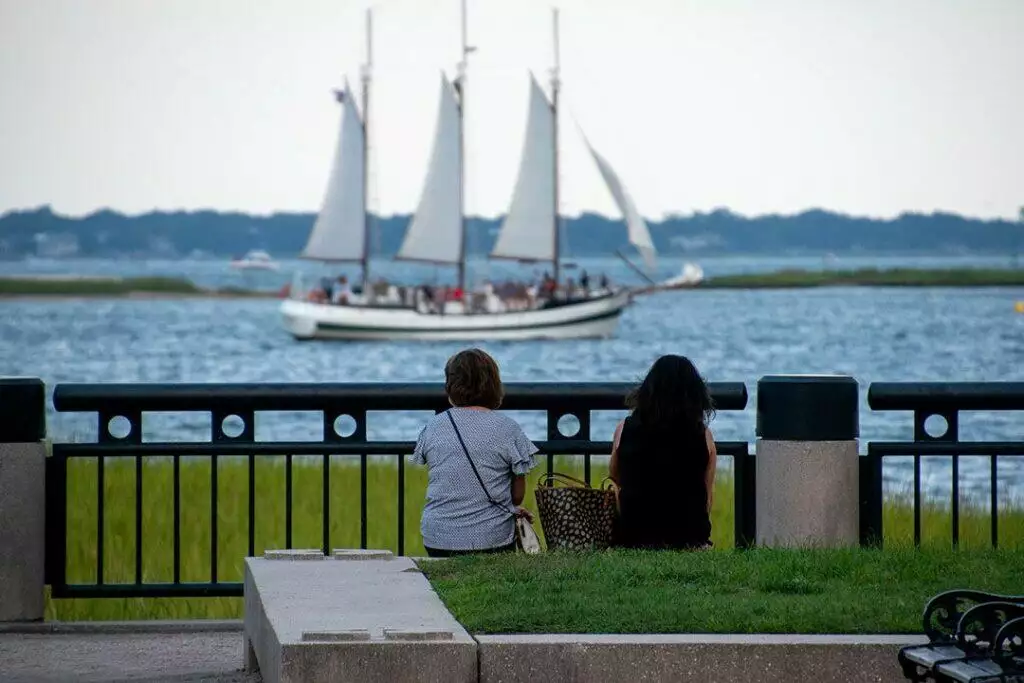 In preparation for your visit to Charleston, plan your wardrobe according to the weather, and before you leave, check the weather forecast for the most up-to-date information. Here are the typical seasonal weather conditions and recommended packing list:
Seasonal Packing Tips
Spring
Average temperatures: High of 80°F to Low of 60° F
During spring, you'll want to pack layers, including short and long-sleeved shirts or a light jacket. Pants, shorts, and dresses are also great for this time of year, and light layers will help keep you comfortable as temperatures fluctuate in the evening.
Summer
Average temperatures: High of 89°F to Low of 72°F
The summer months are Charleston's hottest and most humid time. Light-colored, breathable clothing, such as light dresses, shorts, and pants, is ideal. Consider bringing a light jacket for restaurants and bars that like to turn up the air conditioning. Remember to bring plenty of sunscreen and a hat to shade and protect from the sun. Consider packing an umbrella, waterproof shoes, or a rain jacket.

Fall
Average temperatures: High of 78°F to Low of 58°F
Similar to the spring, it is advisable to bring a mix of pants, skirts, dresses, and layers as the weather is similar. While it is still warm and humid during the day, the evenings may be breezy and chilly, so be sure to bring a light jacket. There may be scattered rain showers during this time of year, so check the forecast before you leave.

Winter
Average temperatures: High of 63°F to Low of 41°F
While Charleston's winters are milder than other regions, it is still cooler than the other seasons. Light sweaters, jackets, and medium-weight pants are perfect for this time of year. Consider bringing a thicker jacket and gloves for the chillier days and nights, especially if you plan to visit around the harbor.
*Average Charleston temperatures based on a 10-year average
Local Packing Tips
Charleston has numerous casual dining spots, bars, and entertainment venues. Yet, Southern attire may differ from what you are used to, so dressing up a tad more than usual is recommended. While nice jeans or khakis are acceptable, packing at least one outfit that meets the dress code requirements of fancier eateries is advisable. More upscale attire for men includes a sports jacket paired with slacks (open-toed shoes are a no-go), while women should consider a dress, pantsuit, or slacks with a jacket (tank tops are a no-go).

Choose your Footwear Wisely
The charming cobblestone streets and uneven sidewalks in Charleston are not ideal for hard-soled shoes or high heels. Comfortable footwear is highly recommended during the day, especially if you plan to sightsee or book a tour. In addition to sneakers or running shoes, bring a versatile pair of shoes such as ankle boots, comfortable low heels, or dressier flats that suit a restaurant or bar with a dress code.

Proper planning and packing according to the forecast and dress code will help you make the most of your Charleston vacation. With these local tips, you will surely have a comfortable and enjoyable experience in this charming Southern city.
How to get around on your Charleston vacation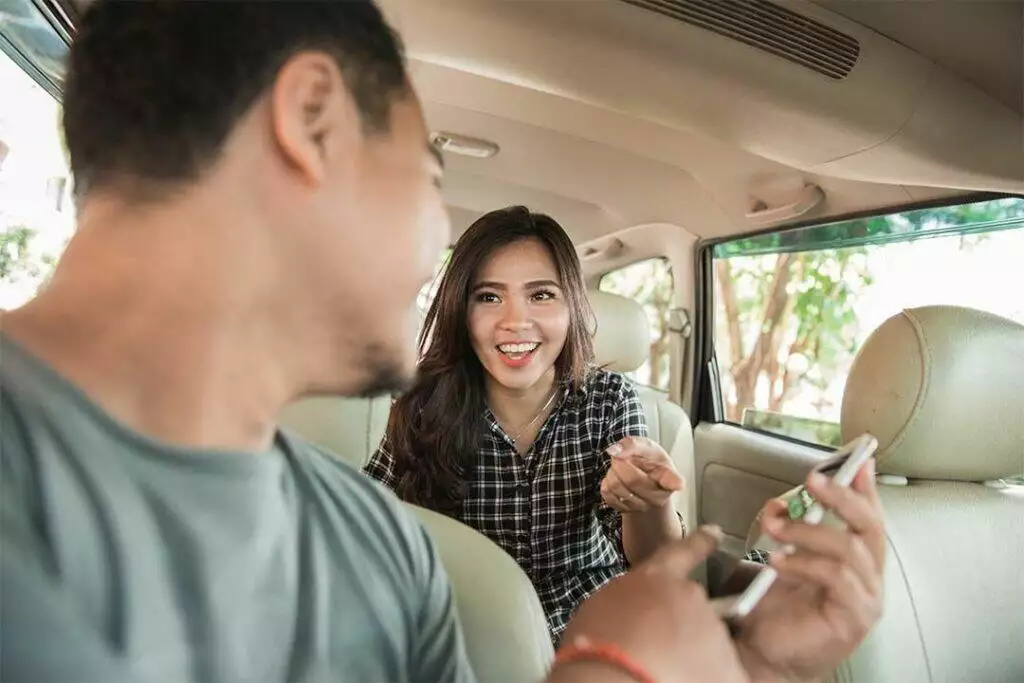 Your best transportation option in Charleston will hinge on your plans in or around the city. To get around town, ride-sharing services like Uber and Lyft are popular, as are pedicabs from Charleston Bike Taxi or Charleston Pedicab. Traditional taxis from Charleston Cab Company and Charleston Green Taxi are also readily available to get you around the city. However, renting a car may be more convenient if you plan to visit places outside the city limits, such as the beaches, where cabs may be scarce. Car rentals are available at the Charleston International Airport. Also, make sure to check with your tour operators to clarify what travel they cover within your sightseeing plans.
Transportation from the airport
Upon arrival, the airport is approximately 12 miles northwest of downtown. You can take a taxi or shuttle bus to your accommodation. The minimum taxi charge for airport departures is $15. Alternatively, a shared shuttle bus departs every 15 minutes and costs $15 per person, including multiple stops. Uber and Lyft will also pick up passengers from the Charleston International Airport. When you request your ride, exit the baggage claim area and follow the signs to the covered shelter across both roadways and to the right of the last sidewalk.
Things to do /places to visit in Charleston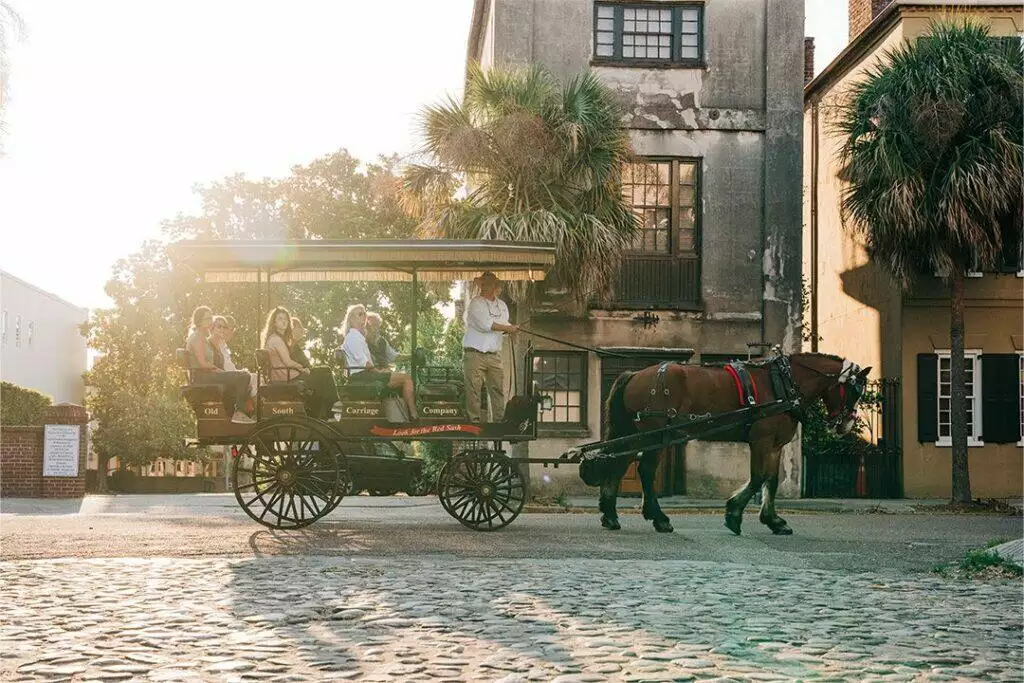 There is no shortage of fantastic things to do in Charleston. Will you ride through history on a classic horse-drawn carriage, stand on the site of the first shots in the American Civil War, or cruise around the harbor to catch the sunset? Here are some recommended tours and places in Charleston that are bound to satisfy every kind of traveler.
Old South Carriage Tours
Discover the fascinating history of Charleston in style with our top-rated tour! Join a friendly and knowledgeable guide and lovable horse for an exquisite horse-drawn carriage tour. Ride on an unforgettable 1-hour journey through the city's captivating past. Sit back and relax as you soak up the sights and sounds of historic downtown Charleston - it's the ultimate way to experience the city's charm and character! Check Carriage Tour Availability
What visitors say: "If you're in Charleston, you have to take this (historic) tour. Tom was our guide (he was great), and Ricky was our horse. Tom was very knowledgeable of the history, having been raised there. This was one of my favorite parts of visiting Charleston. Awesome experience!" - Jenna
Fort Sumter
Hear the echoes of history at the world-renowned Fort Sumter, perched atop an island in Charleston Harbor. On April 12, 1861, the first shots of the Civil War rang out when Confederate troops fired on Fort Sumter. You'll visit these very spots. You'll start by boarding a tour boat and taking a narrated 30-minute cruise to the historic fort; then, you will be greeted by a National Park Service ranger, who will provide an introduction and answer questions. You'll have an hour to explore the fort and museum store independently.
What visitors say: "Totally worth the ticket. Rangers are very knowledgeable and even got a chance to help put away the flag at the end of the trip. Dolphins leading the boat during the ride was a plus." - Carlos
Rainbow Row
The colorful homes lining Charleston's East Bay Street, commonly referred to as Rainbow Row, are an unmistakable symbol of the city. Dating back to the 18th century, this iconic stretch of houses boasts a range of bright pastel hues that continue to capture the hearts of visitors and locals alike. Take a Historic Carriage Tour to learn the history of this landmark or see it from the street. It's no wonder why Rainbow Row is among the most cherished and photographed attractions in Charleston. Find out more about this enchanting landmark at Rainbow Row.
What visitors say: "Absolutely beautiful area in downtown Charleston! This is definitely one of my favorite vacation spots. There is no way to take a bad picture down here! Beautiful homes, beautiful streets, beautiful ornamental gates, beautiful plants…..just BEAUTIFUL!"- Kimberly
Nathaniel Russell House - Historic home tour
The Nathaniel Russell House showcases the opulent lifestyles of the mercantile elite in the 1800s, including the skilled artisans and enslaved individuals who helped make it possible. The home boasts some of the most beautiful neoclassical architecture in the country and has been restored to its 1808 appearance. One of its most famous features is its three-story, free-flying cantilevered spiraling staircase. Learn about the home's restoration process and appreciate the meticulous care and attention to detail.
What visitors say: "Breathtakingly beautiful house museum. They have really worked hard to keep/restore this house to how it was in the early 1800's. There are two touring options: a guided tour or an audio tour with earphones; we utilized the audio option, and it was very informative and easy to do. Every room in the main house was beautiful and elegant." - Meagan
Cruise around the Charleston Harbor
Explore the enchanting Charleston Harbor with SpiritLine Cruises, the premium tour company that offers live commentary by certified tour guides. Immerse yourself in the captivating ambiance of the harbor and marvel at renowned American landmarks, including Fort Sumter, the Battery, and the USS Yorktown.
Take in the breathtaking waterfront view of the port and unwind on exceptional specialty cruises, such as dinner cruises and seasonal tours.
What visitors say: (Dinner Cruise) "We had a very enjoyable evening. The food was great, and our server was one of the best we've ever had. The live entertainment provided was a guy and a guitar. He sang very good, was at the perfect volume level, and the genre was enjoyable. The sunset on the water and the big bridge they call Arthur lit up at night was very nice. The views of several harbor sites are better from the water."- Dave
Embark on a journey through Charleston's historic district amidst lush gardens, home to many historic Civil War monuments. Amidst the verdant scenery are breathtaking views of Charleston Harbor, where the Ashley and Cooper rivers flow into the Atlantic Ocean. This public garden, which dates back to 1837, was converted into a fortification during the Civil War and now boasts an impressive arsenal of weaponry on display. Additionally, check out the rejuvenated bandstand while watching the captivating vistas of Fort Sumter and Charleston Harbor.
What visitors say: "​​Nice little park with beautiful paths. We arrived early and were able to park right on Murray Blvd. Great views of the water and easy walking distance to pretty much every other site in historic Charleston." -Laura & Joren
Drayton Hall Plantation Tour
Drayton Hall is a historic plantation that offers guided tours that delve into the history and culture of colonial America and the evolution of life in the South. Explore the site's collections, which include fine arts and historical artifacts dating from prehistory to the present.
What visitors say: "Exceptionally interesting and well-preserved area offering fascinating insights into the world of a southern plantation. Unlike similar sites, the focus here is on preservation rather than restoration, meaning the old buildings, including the main house, have had minimal work done on them since the 1800s. - Lance
The South Carolina Aquarium
Are you looking for a place to connect with nature and learn about marine conservation efforts? The South Carolina Aquarium, situated in the heart of downtown, is a non-profit organization that aims to educate visitors about the beauty and importance of marine life and share its commitment to conservation. Explore the Sea Turtle Care Center and witness the incredible work done to protect these precious creatures.
What visitors say: "We absolutely enjoyed the aquarium! There were so many different interactive things for them to do there. Between petting mini tiger sharks, starfish, and sting rays! It was a very fun place. They also have this amazing turtle hospital where they rehab turtles from the area that are sick or injured. They show you details on their checkups and updates on their recovery! The employees are all super friendly as well." - Citygirl
Walk the Ravenel Bridge
The Arthur Ravenel Jr Bridge is an iconic landmark with a walking path that allows visitors to trek a 6-mile round trip for spectacular views of the city. This cable-stayed bridge, constructed in 2005, is known for its diamond-shaped towers, nearly 600 feet tall, and is illuminated at night. The Ravenel Bridge is a must-visit for any Charleston traveler looking for a picturesque and unforgettable view of the city, and it's free to use!
What visitors say: "This is a spectacular and cool bridge to run, walk or bike. The views and the scenery are amazing, I walked during sunset, and it's just a beautiful place to do your morning or evening routine." - Ismael
Recommended Charleston Restaurants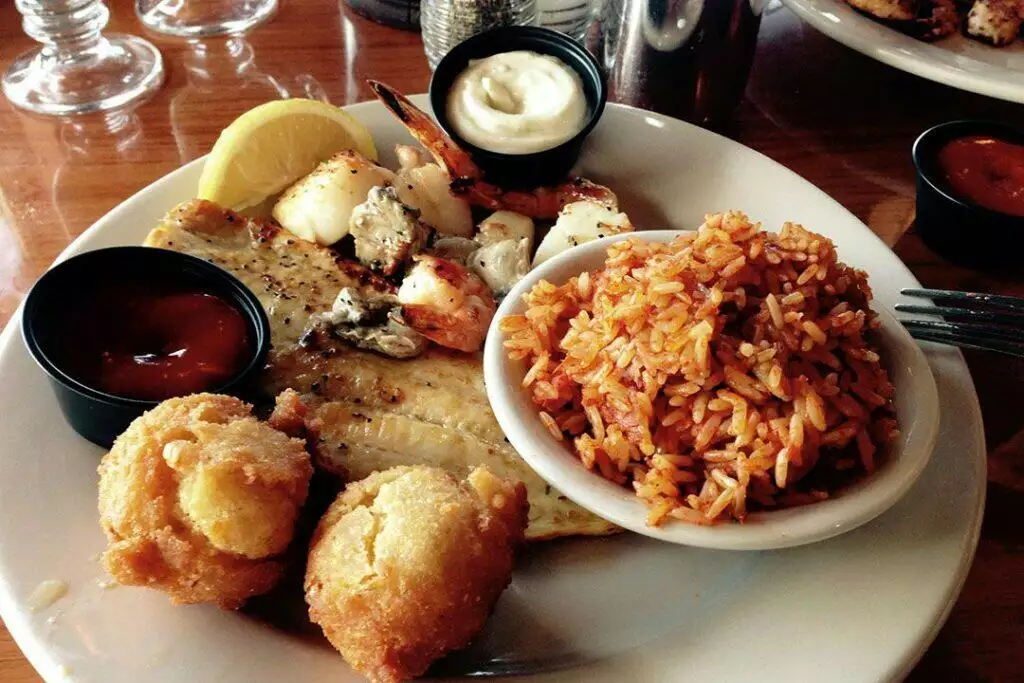 With so many eateries to choose from, here's a curated list of some of the popular favorites and established restaurants to complement your visit to Charleston.
Recommended places to stay in Charleston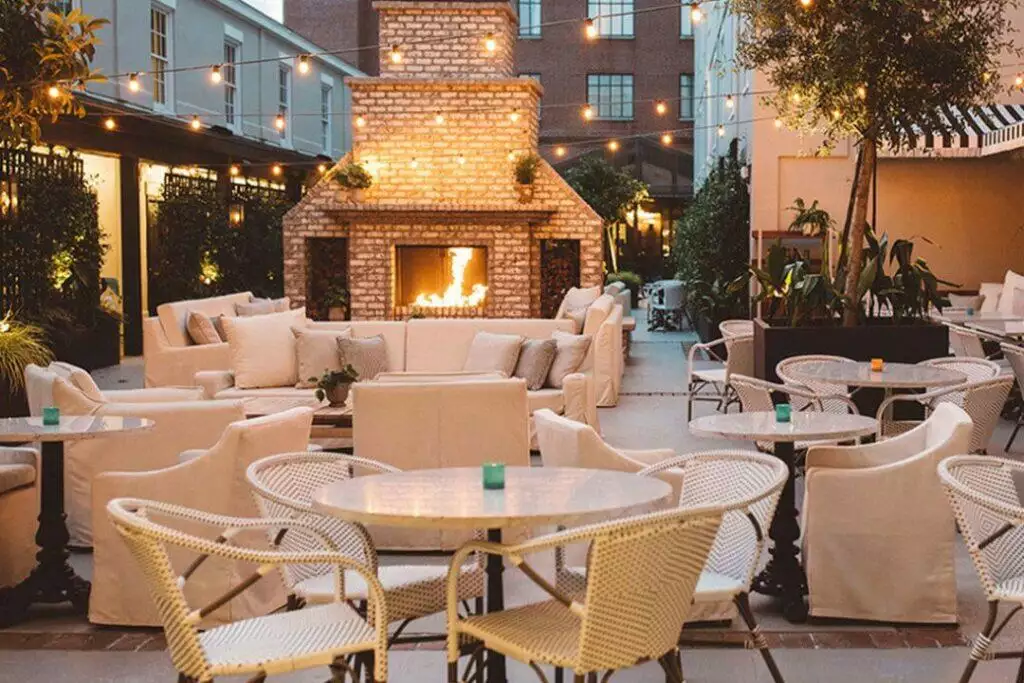 Charleston boasts hotels with exceptional amenities, including tranquil rooftop pools, cozy patios, and indulgent spas, all served by welcoming staff. Discover the ideal hotel that fulfills all your requirements for an unforgettable stay.
Emeline Hotel
Emeline Hotel is a one-part vintage and one-part hip retreat. This warm and inviting hotel includes a central private courtyard and garden with a statement fireplace. The Emeline offers luxury rooms and furnishings, featuring amenities such as embroidered linens and towels and a Crosley Record Player to add music to create your own ambiance. The Emeline prides itself on its great hospitality, providing a warm welcome after a busy day exploring the city. Before you leave, visit the Keep Shop, an exciting retail store showcasing goods from local artisans and carefully selected national products.
Charleston Place
Described by Conde Nast as the epitome of "understated opulence with all the perks," Charleston Place over-delivers. This 4-star hotel in Charleston's historic district includes a magnificent lobby that sets the tone with its grand staircase, while the spacious and meticulously decorated rooms provide a serene sanctuary for visitors. Charleston Place is home to an award-winning spa and a rooftop pool with a retractable glass roof.
HarborView Inn
This newly renovated boutique hotel overlooks the Charleston Harbor and Waterfront Park with 52 elegant rooms and suites that include modern tile bathrooms, brand new armoires, and rainfall showers. Guests of the HarborView Inn can also enjoy the tranquility of the waterfront while sipping on a refreshing drink at the rooftop bar. The hotel extras include a free afternoon wine and cheese reception and a rooftop skyline tour. Ask about the complimentary breakfast and milk and cookies in the evening.
The Spectator Hotel
This 1920s-inspired boutique hotel conveys the beauty and glamor of the Old South. It features a popular speakeasy-style bar serving Prohibition-inspired cocktails. The Spectator Hotel is also known for its attention to detail and personalized butler services, such as turndown service, shoe shine, packing and unpacking service, and gourmet in-room continental breakfast. The Spectator is within walking distance of the city market, Charleston Waterfront Park, and the Shops At Charleston Place.
Wentworth Mansion
Named one of the Historic Hotels of America, Wentworth Mansion, completed in 1886, is a 5-star architectural gem of hand-carved ceilings, parquet floors, marble fireplaces, and Tiffany stained glass windows. Past guests love the rooftop to take in a sunset, the evening wine and cheese hour, and the 24/7 whiskey station for an evening nightcap. Located near the College of Charleston, the mansion has fantastic views of Marion Square and is walkable to the popular shopping on King Street.
Hotel Bennett
Step into the world of luxury and elegance at the Hotel Bennett— a true embodiment of Charleston's charm through its classic Southern design. Prepare for an indulgent experience as Hotel Bennett will pamper you in every way possible, from lavish rooms and suites to world-class spa treatments and a rooftop pool that offers grand views of Marion Square. The impeccable service and attention to detail will make your stay unforgettable.
Looking for additional Charleston travel guide resources for your trip to this fantastic city? Check out our blog for more tips and attractions to explore during your stay!