< More Posts
14 Things To Do In Charleston, SC With Kids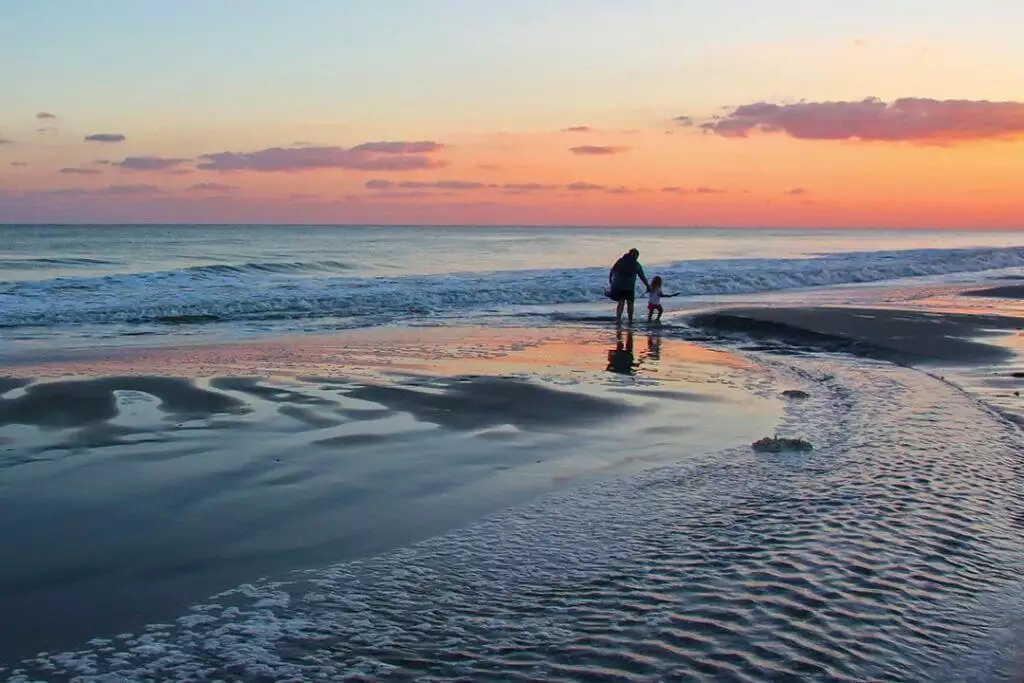 If you're searching for activities to enjoy with the kids in Charleston, SC., you're in luck! This city has plenty of entertainment, attractions, and experiences to satisfy children of all ages. From educational opportunities to unique activities, there is something for every family member to appreciate.
Here's a compilation of fourteen incredible things to do in Charleston with kids. Keep reading to find out more about the city's top educational, indoor, outdoor, and unique spots.
Table of Contents
Charleston, SC, is overflowing with activities that will educate and engage children of all ages. Here are four of the best educational activities to enjoy with your kids: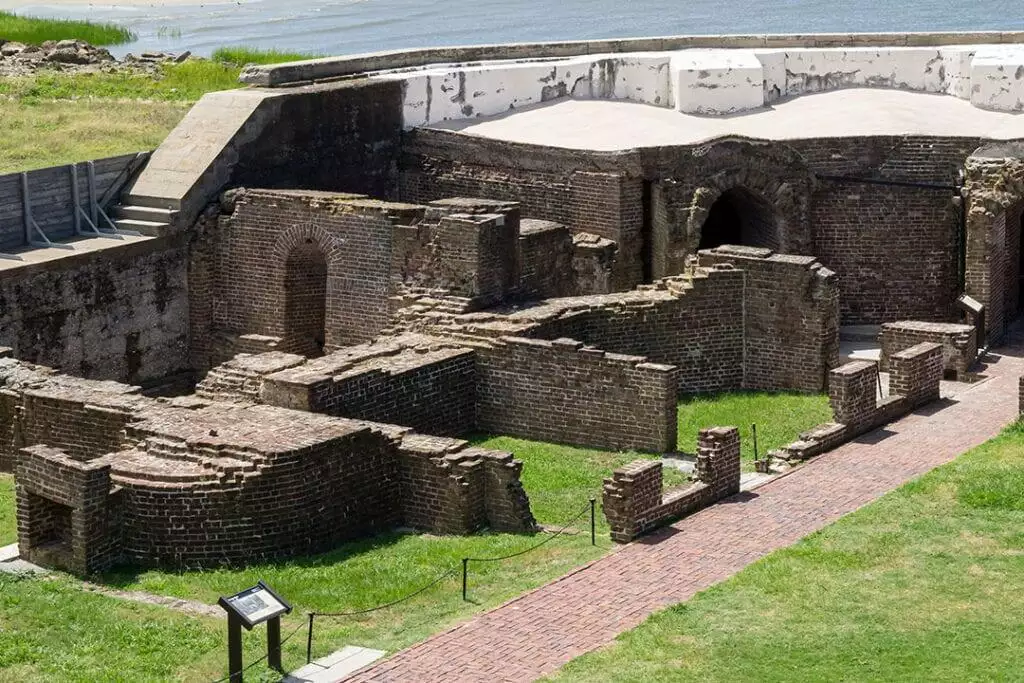 1. Fort Sumter National Monument
Take a step back in time and explore the site where the American Civil War began. Fort Sumter features a museum that houses historical artifacts, and guided tours are available to take visitors on a journey through history. The tour guides are knowledgeable and engaging, making it a fun and educational experience for the entire family!
Key Information: Tours are conducted daily from two pick-up locations – downtown Charleston and Mount Pleasant. You will get to enjoy a beautiful 30-minute boat ride to and from the monument. If you want to maximize family fun, book the Old South Carriage and Fort Sumter Tour Combo.
Why Kids Love It:
Your children will love the boat ride to and from the site and exploring the museum's collection of Civil War-era artifacts and interactive exhibits. Being able to step on the grounds of history with a great guide keeps the kids engaged and wanting more!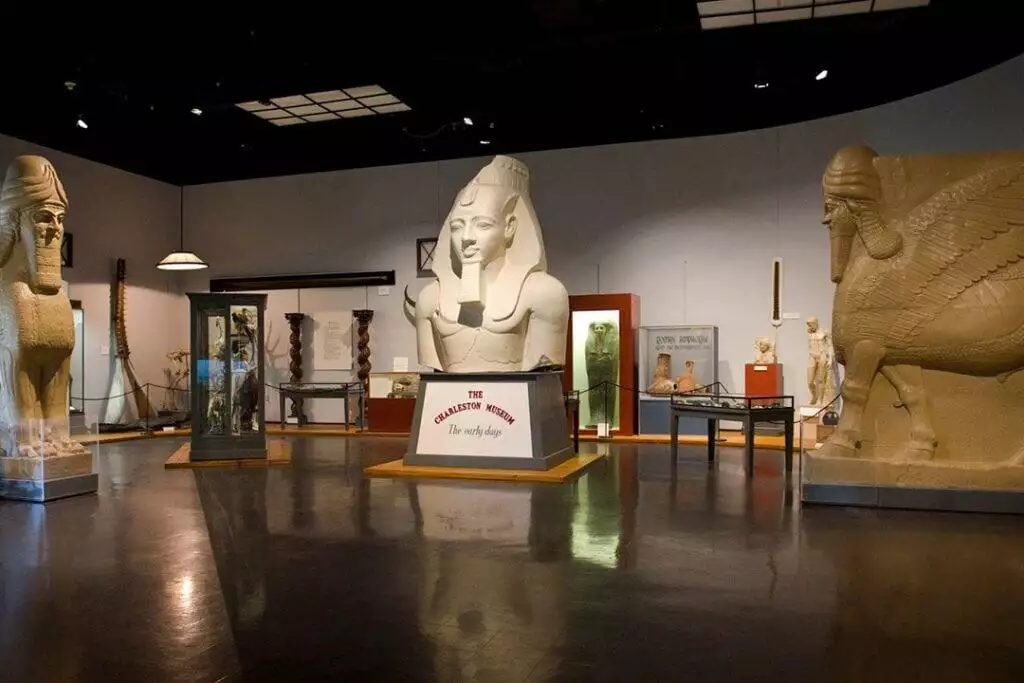 This museum is the oldest in the country, with exhibits full of artifacts and history. With kids specifically in mind, they have recently created Kidstory, a fun and exciting hands-on exhibit to keep children engaged and motivated to learn more. Here, the area's fascinating history comes alive!
Key Information: It is open Mon-Sat from 9 am- 5 pm and Sun from 12 pm- 5 pm. A basic adult ticket is $12, a youth ticket (ages 13-17) is $10, a child ticket (ages 3-12) is $5, and children two and under are free.
Why Kids Love It:
Your kids will love the interactive displays that ignite their curiosity. They will enjoy looking through microscopes, listening to stories, raising the pirate flag, playing in a "kid-sized" mansion, and more.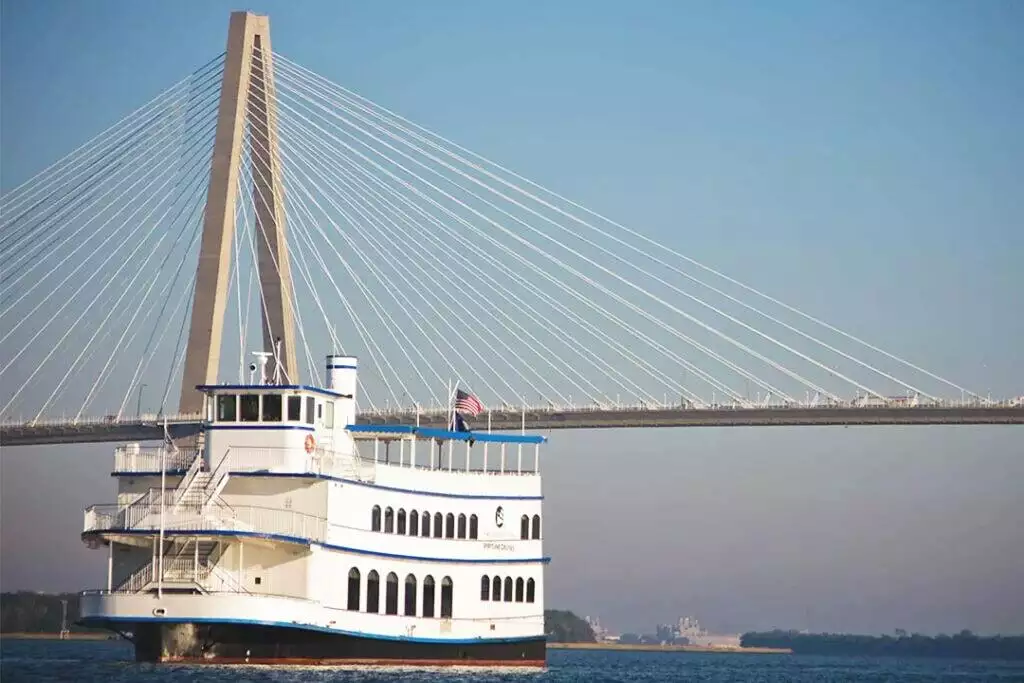 3. SpiritLine Cruises
Take learning to the water with a SpiritLine Cruise! This Harbor Tour is narrated by a guide providing historically accurate facts and stories that bring the views you see to life. As you cruise the harbor, you will pass American landmarks, including Fort Sumter, the aircraft carrier USS Yorktown, Charleston Battery, the Ravenel Bridge, and Castle Pinckney.
Key Information: They are open from 9 am- 5 pm but have varying departure times that depend on the pickup location. You can either be picked up from Downtown Charleston or Mt. Pleasant. Tickets are $39 for adults, $34 for Seniors/Military, $25 for children, and free for children 3 and under. If you want a package to experience more of Charleston, you can check out the Harbor Cruise Tour Combo, which includes the Harbor Tour and an Old South Carriage ride.
Why Kids Love It: Between the guide, the 360-degree views, and being on the water, your kids will stay interested and have so much to enjoy. This unique view of Charleston wows children of all ages!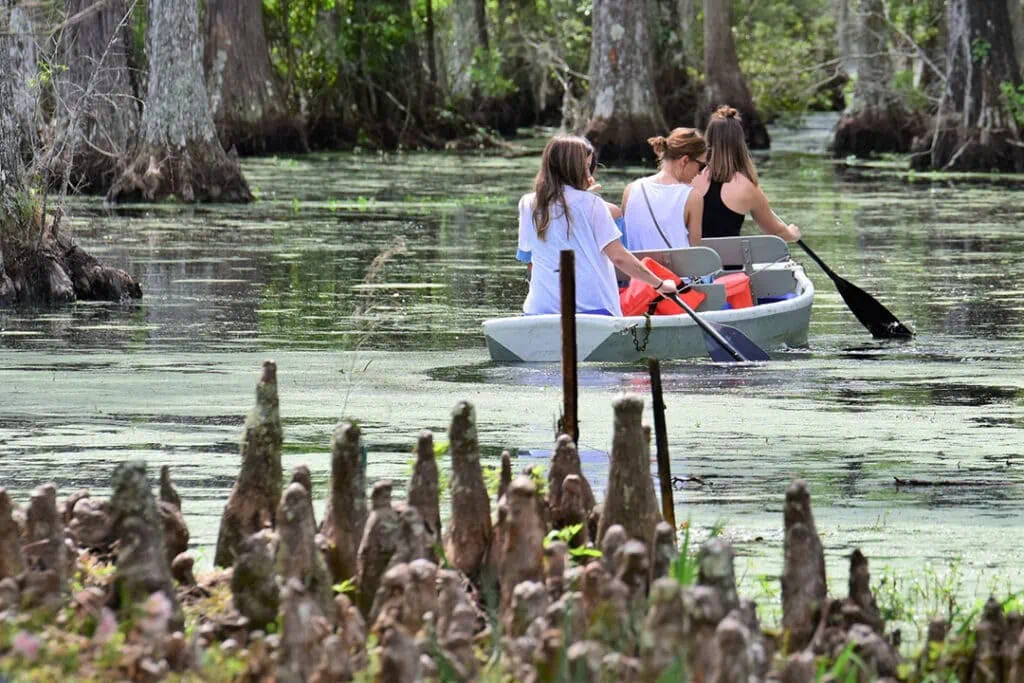 4. Cypress Gardens
Wander into 80 acres of gardens, swamps, and nature trails at Cypress Gardens. This natural wonderland is home to a variety of plants, birds, and wildlife for kids to explore. You can spot turtles and alligators, enjoy the butterfly house, pet animals at the petting zoo, and even take a boat ride!
Key Information: The Cypress Gardens are open 7 days a week from 9 am to 5 pm, with the last admission at 4 pm. Entry is $10 for adults, $5 for children ages 6-17, and free for children five years and under. 
Why Kids Love It:
Your kids will love finding wildlife, roaming in the natural environment, witnessing the metamorphosis of butterflies at the Butterfly House, and interacting with farm animals at the petting zoo. There is so much to see, experience, and explore to entertain kids of all ages.
Whether you're looking to escape the heat or find an activity for a rainy day, these indoor attractions are perfect for kids of all ages.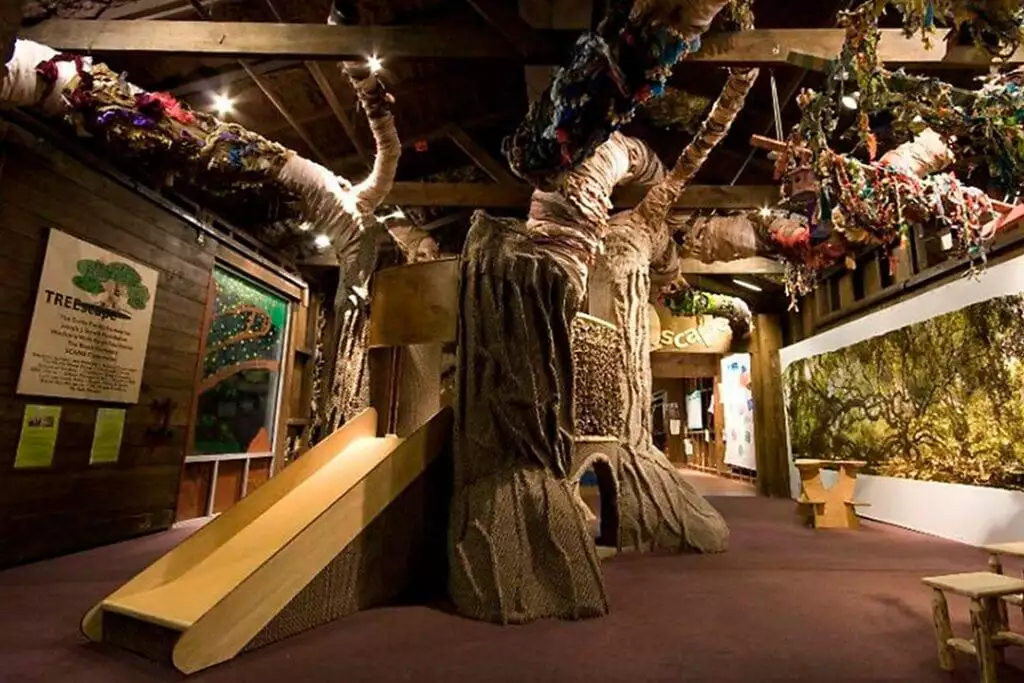 5. Children's Museum of the Lowcountry
This museum is among the most popular things to do in Charleston with kids. The Children's Museum of the Lowcountry offers a wide variety of hands-on exhibits that allow kids to explore, learn, and create. Kids can immerse themselves in imaginative play, make music, climb, and experiment with science. The museum is a must-visit for families with children under 12, and it's a great way to spend a day of indoor fun in Charleston.
Key Information: The Museum is open Mon-Sat from 9 am-5 pm and Sun from 12 pm-5 pm. The Museum is free for children under one year, $13 for SC Residents, and $15 for non-SC Residents. Your admission grants you all-day access, and you can buy tickets at the time of entry to the Museum.
Why Kids Love It:
At the Children's Museum of the Lowcountry, your children can unleash their imaginations, experiment with science, and create their own masterpieces. It allows children with different interests and playing styles to enjoy exhibits and flex their creative muscles. From an art room, a play supermarket, and a medieval castle. There is something for every child!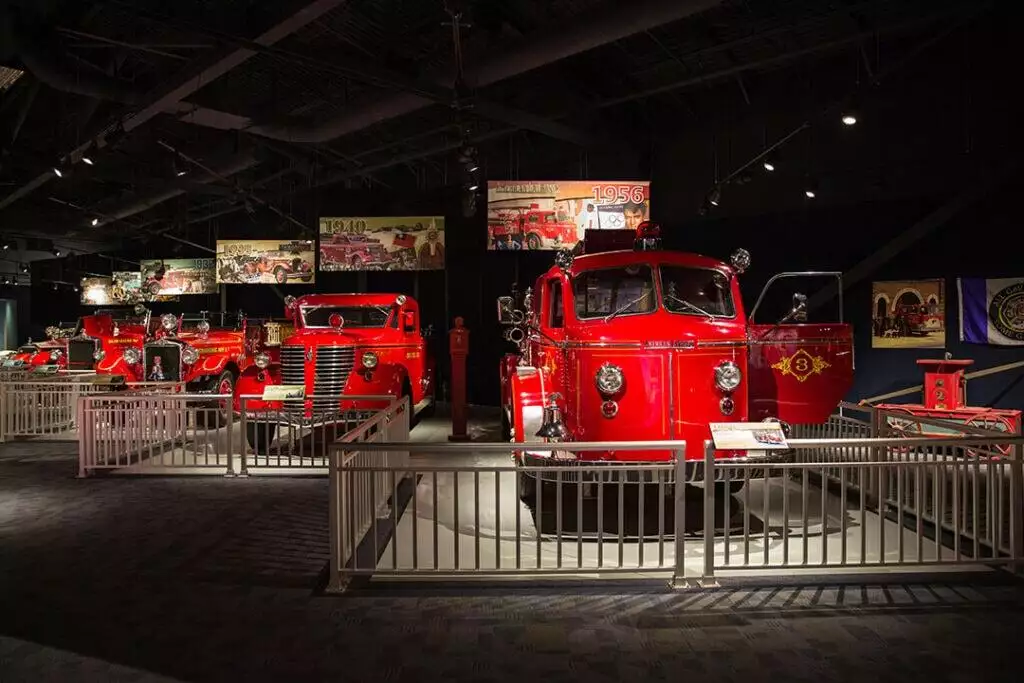 6. The North Charleston Fire Museum
The North Charleston Fire Museum is a wonderful place to learn and ignite recognition and love for firefighters. With interactive exhibits, plenty of historic firefighting objects, cars, and uniforms to look at, and the ability to learn along the way, your children will be thrilled and entertained.
Key Information: The Fire Museum is open Monday-Saturday from 10 am- 4 pm. Adult admission is $6, and children 12 and under get in for free.
Why Kids Love It: What child doesn't love the chance to be a firefighter? While walking through the museum and engaging with the exhibits, your kids will love being immersed in the life and history of firefighters.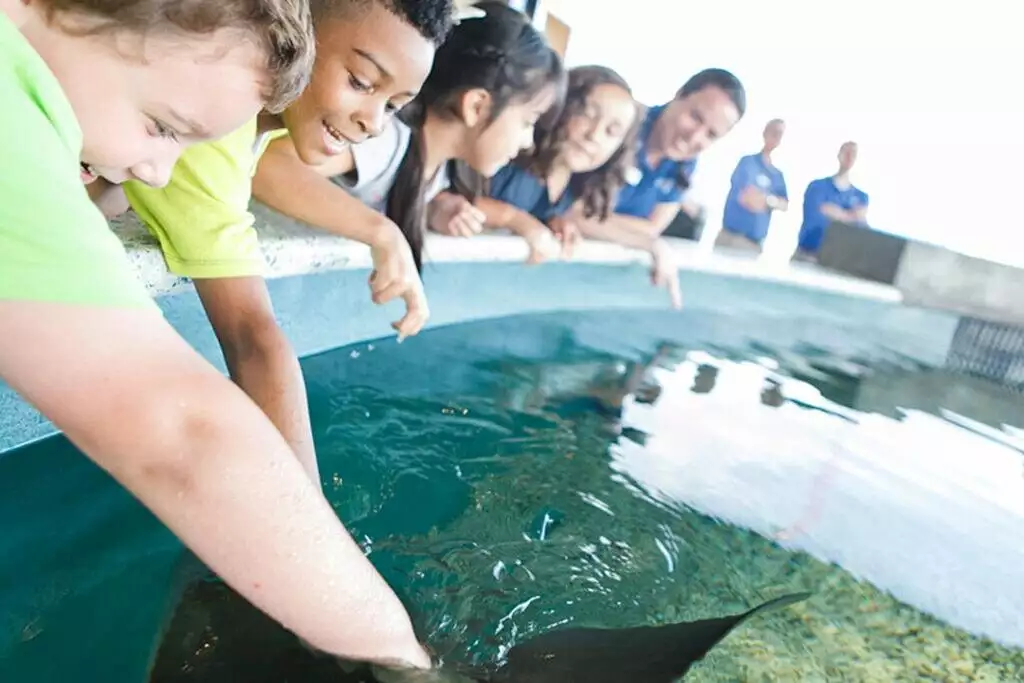 7. The South Carolina Aquarium
Now, this is an indoor attraction the whole family will love! The South Carolina Aquarium is home to over 5,000 animals, including sharks, sea turtles, and river otters. Kids can touch stingrays and horseshoe crabs in the touch tank or watch the sea turtles being fed. With daily educational programs and special events, there is always something to do!
Key Information: They are open daily from 9 am- 5 pm. Ticket prices vary from day to day but usually range from $26-35 dollars. You can check out the aquarium-specific pricing on their website.
Why Kids Love It:
Your children will love watching and being able to observe all of the different animals as they swim, explore, and live their lives. With so much to look at, they will wonder at the amazing underwater world they are witnessing.
There are plenty of outdoor family activities in Charleston that keep the kids entertained. Here are three of our favorite outdoor spots in the city.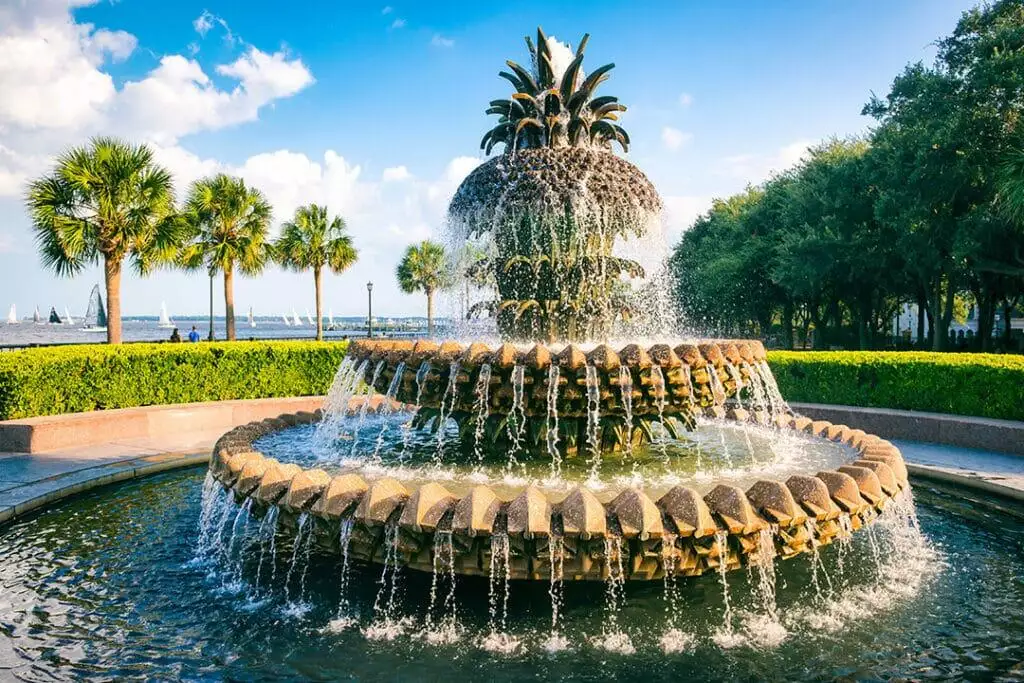 Visiting this park is a favorite family activity in Charleston. It's a great place for a family picnic or a relaxing afternoon by the water. This park features fountains, a pier, and plenty of grassy areas for kids to run around. The pineapple fountain is a highlight of the park, as well as the great view of Charleston Harbor.
Key Information: Waterfront Park is located along Concord Street on the Cooper River and is free to enjoy!
Why Kids Love It:
While running through the fountain and splashing around in the water, your kids can enjoy even the hottest days! They will also love watching ships pass by and the dolphins swimming in the water. Here, they can soak up some time outdoors!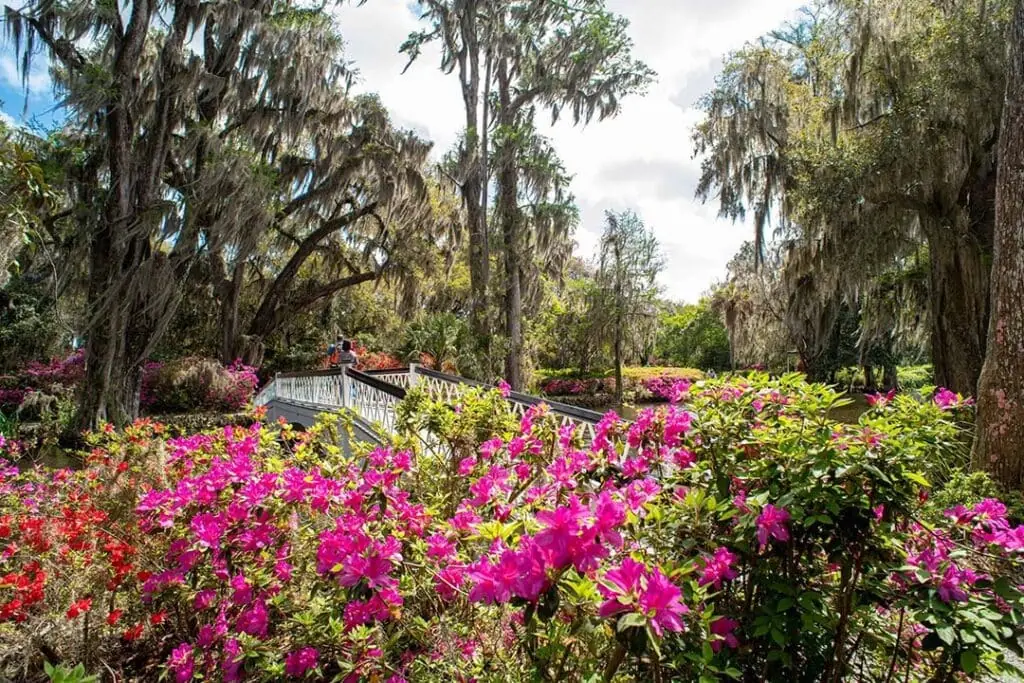 This historic estate has been open to the public since 1870. The gardens are one of the main attractions, including a maze, a butterfly garden, and a petting zoo. Kids will love the train ride through the gardens and the opportunity to see exotic animals like peacocks and alligators. Remember to stop by the plantation house to see what life was like in the 19th century.
Key Information: Check out the tour options such as the "From Slavery to Freedom" Tour, the Magnolia House Tour, Historic Garden Tour, or Wildlife Tour. Some of these tickets include the Nature Train and the Wildlife Center.
Why Kids Love It:
The unforgettable wildlife interactions, the Nature Train, and learning about the area will keep your kids on their toes. This outdoor spot provides a glimpse into the past, with opportunities to see animals up close and explore beautifully landscaped gardens that they will love.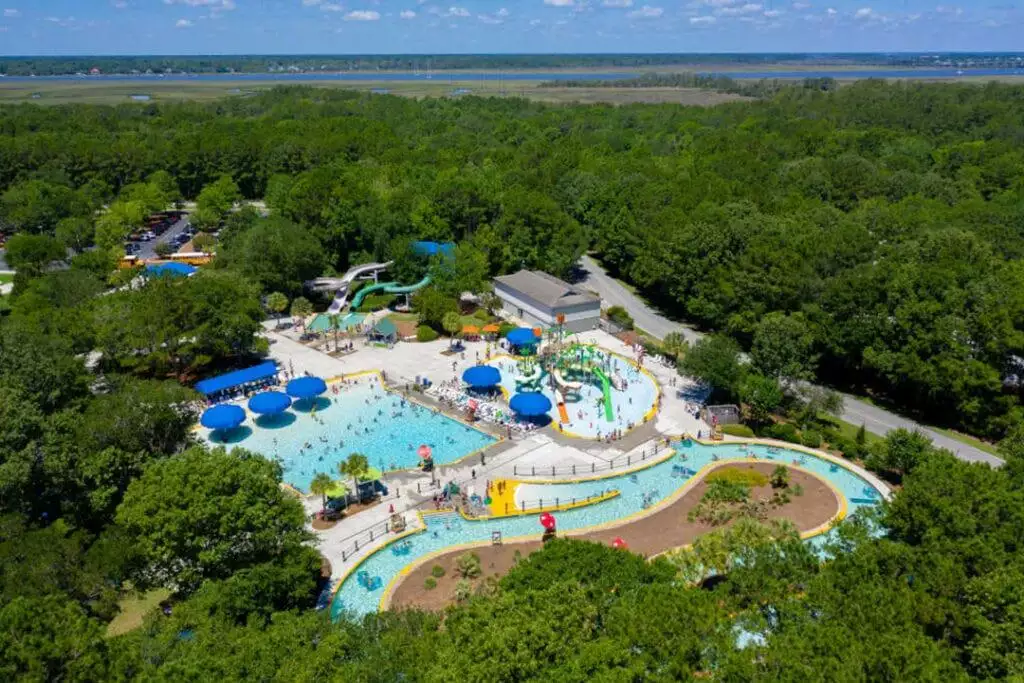 10. Splash Zone Waterpark
Looking for the perfect place to cool off on a hot Charleston afternoon? The Splash Zone Water Park includes water slides, a lazy river, a pool, buckets, sprays, and more. It will get your kids cooled off and re-energized!
Key Information: Open days change seasonally from 10 am - 6 pm. Different water slides have different height restrictions ranging from 36 - 48 inches. General Admission is $13.99 per person, $11.99 per person for those under 48 inches, $8.99 per person for ages 60+, and free for children 2 and under.
Why Kids Love It:
What kid doesn't love a waterpark?! Your children will love having hours to go down the slides, swim in the pool, take a break with a concessions snack, and do it all over again!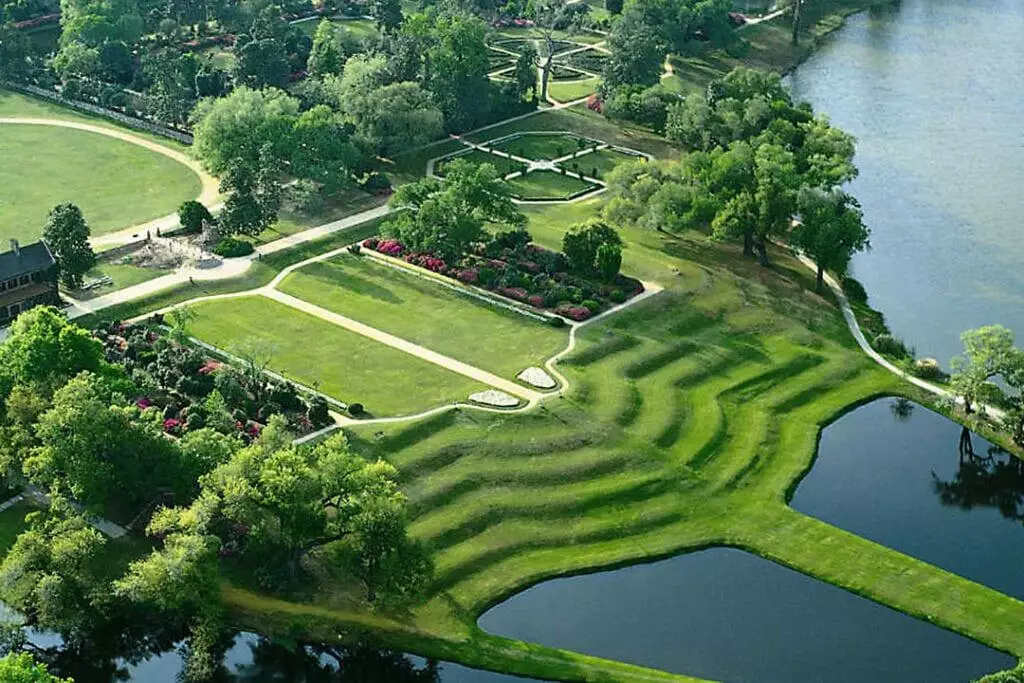 This historic estate has plenty of outdoor activities for kids. The property features old estates, beautiful gardens, a stable yard with live animals, and a rice field overlook. And don't forget to visit the onsite restaurant for some delicious southern cuisine.
Key Information: They are open daily from 9 am - 5 pm. There are a variety of tours to choose from that range from $15-$49, and a $300 option for a private experience. These tours will take you through Middleton Place House and immerse you in its history!
Why Kids Love It:
Kids love immersing themselves in a different time and place while still having fun, learning, and seeing history come alive. In addition, they will enjoy seeing the old gardens and the livestock kept on the property!
If you're looking for a unique experience to share with your kids in Charleston, there are plenty of options to choose from! Here are a few of our favorites: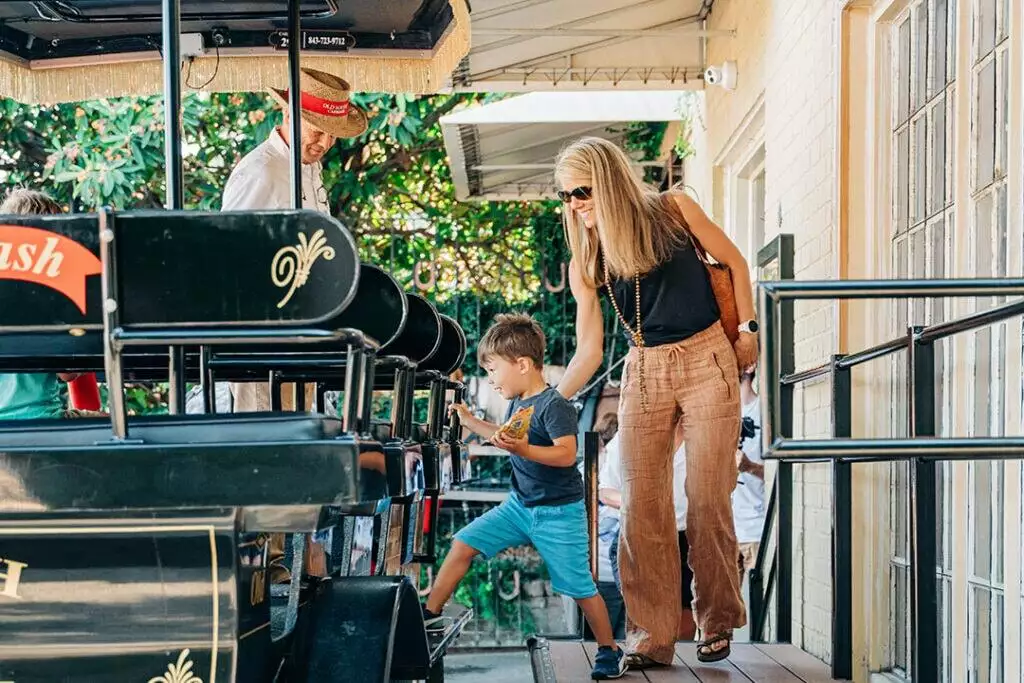 12. Carriage Ride Through Historic Downtown Charleston
Riding in a horse-drawn carriage with Old South Carriage Company through Charleston's charming historic district is an experience unlike any other. Between the beautiful horses, top-of-the-line carriages, rich history, and friendly guides, this is a quintessential Charleston experience. And, let's be honest, who doesn't love a good horse and carriage ride?
Key Information: The Historic Charleston Carriage Tour runs from 9 am- 5 pm and is a one-hour tour, priced at $50 for adults and $40 for children, and free for children 3 and under.
Why Kids Love It:
Your kids will love to see and pet the draft horses, ride in the carriages, and explore Charleston with such a unique experience. They will love getting to see the city from a new perspective and learning about its fascinating history. This is definitely a memorable thing to do in Charleston with kids!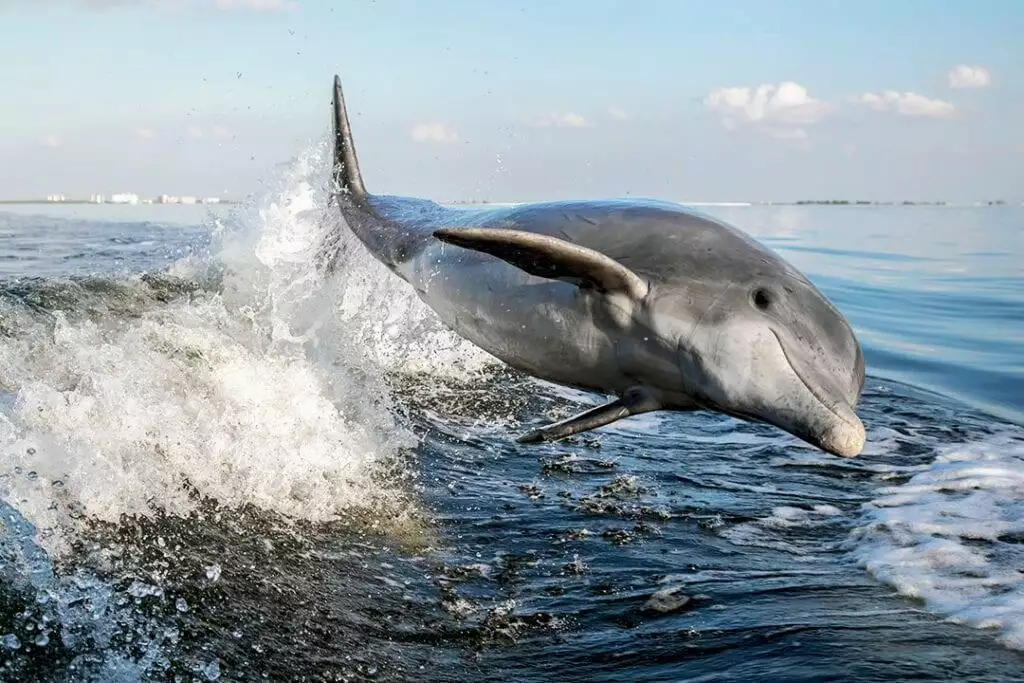 13. Boat Ride to See Dolphins
Charleston's waters are home to a variety of playful marine life, including bottlenose dolphins. A Nature & Dolphin ECO Tour is a great way for kids to see these amazing creatures up close and learn about their behaviors and habitat. They may even see them jump and play in the wake of the boat!
Key Information: Dolphin tours are approximately 2 hours long and are $52 for adults, $40 for children 12 and under, and free for ages 3 and under.
Why Kids Love It:
Your children will love being on the water and watching these fun animals swim and play in the waters surrounding Charleston. This may be one of your favorite things to do with your kids while in Charleston!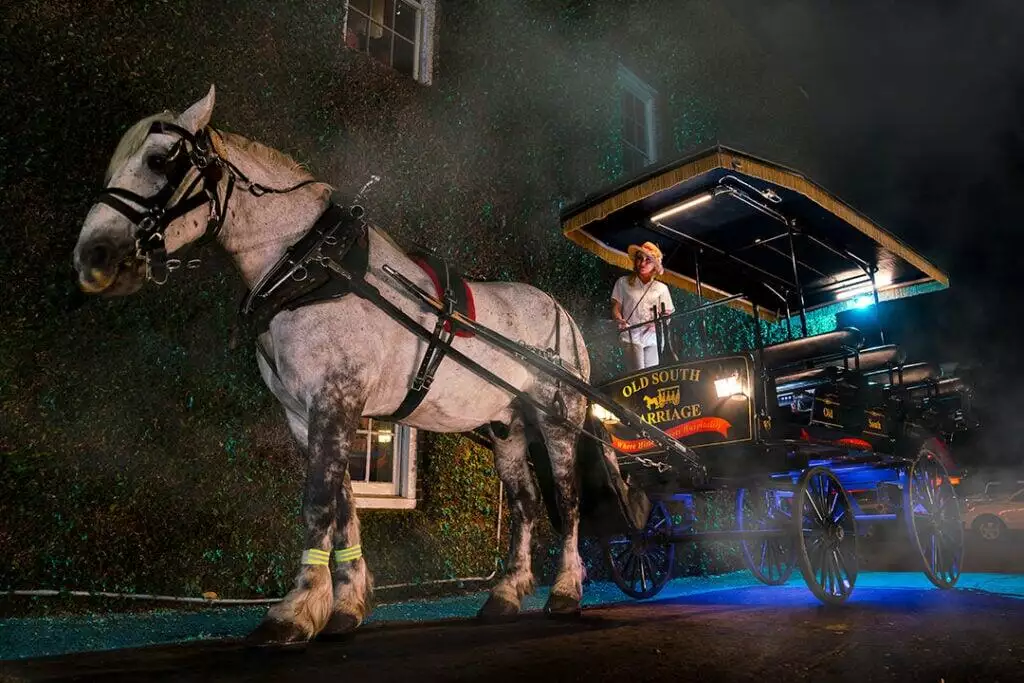 14. Haunted Tour of Charleston
For older kids who love all things spooky, a Haunted Carriage Tour is a must-do. These tours take you to some of the city's most historic (and haunted) locations and share spine-tingling tales of ghosts and pirates from Charleston's fascinating past.
Why Kids Love It:
Your kids will be on the edge of their seats (in a good way!) as they learn about the eerie history of Charleston. It piques their curiosity about the city's history and engages them with their surroundings, and doing it from a carriage adds another layer of excitement.
Overall, Charleston, SC, offers many activities that kids of all ages will love, including exploring history, unleashing creativity, connecting with nature, or experiencing the city's unique attractions. Your family has so many options for making unforgettable memories together.
Looking for more things to do in Charleston? Check out our blog for more information!